Different Shapes You Can Achieve With Your Next Curly Cut
The beauty of curly hair is that it comes in all shapes and sizes. The texture of your natural hair and the shape of your face play a role in which shape suits you the best. Luckily for some, their curls already fall into the shape that they want and a curly trim is all you need. Others seek curly cuts (highly recommended)for their new look or use protective styles like braids or twists in order to achieve their desired look. It is also a matter of length and tightness of each curl when it comes to choosing the right shape and/or cut. If you decide to go for a cut, save some pictures on your phone and show your stylist what look you want. You won't know specific cut advantages (a bolder look) and disadvantages (heat styling) without showing all your ideas. Ask your stylist to fully explain to you the benefits and maintenance the desired cut choices would have for your curls.
The Round/Lioness Style
This is one of the most popular cuts and many famous curly haired girls often sport this look. For those with tighter (3B curls and up) curls, this is the look for you. The tighter the curl, the more volume it has. If your hair is too long, the curls will fall meaning the style will not stay up. This cut comes with many layers which is why the curls sit on top of each other. It also provides a very bold look because of how big it can get. When you wash your hair and are letting it dry, remember to place your hair in the style you want it to dry. This means you'll have to look like a wet mop for a few hours until your hair fully dries. Round shaped face and a big forehead? This is the cut for you as it hides it and highlights other parts of your face, like your eyes.
Tear Drop Style
Tight bottom voluminous top. The teardrop shape gives great height for those who like most of their hair off their face. This style needs manipulation and 360 degree checking to make sure height is in all the right places. Generally, you will need a diffuser to help keep this styling looking hot.
The Middle Split
The "middle split" is probably the most common style.Those with longer hair are likely to have this style by default because longer hair weighs down. Sometimes this style can be a little bland because it doesn't require much volume and can look drab if your clothing style and makeup aren't complimenting the look. However, you can play with this style by flipping your hair to the side and doing a side part. This is a plus if you have really long hair! Those with oval-shaped faces will benefit from this cut as it will frame your face especially if your hair is longer.
Long Layers
Super versatile long layers can be changed by removing a few inches and totally changing the shape. Dramatic lines or soft flowing layers this curly cut is a hit for most looking to maintain a lower level of maintenance as 12 weeks between cuts keeps curls free from dead ends and healthy. Play around face-framing layers and adding and removing length to change the shape.
The Graduated Bob
This cut is for those who like to take risks and like to make statements. The "graduated bob" is one of those styles that you have to stay true to. Meaning you can't really switch up the style of this cut because it is meant to look a certain way when it's loose. Those with 3C through 4C textures will sport this style best as it needs a lot of volume to stay in place. This style works best as a side part, so the bang can highlight the overall shape of the hair. Keep in mind that this cut will require a lot of maintenance like having to get it trimmed every 6-8 weeks and refreshing it accordingly.
The A-Line Bob
The "A-line bob" is somewhat similar to the "graduated bob" and can be difficult to upkeep. Since this style is also a bold one, you can't really switch it up too much. This is one of those styles that you have to know you're going to be happy with because it needs to be kept in its natural state. This bob is literally shaped like the letter "A" meaning it's shorter in the top back of your hair, and longer towards the front of your face. Most curl types can achieve this look as it will have the same effect throughout. Keep in mind that when you blow dry your hair, the style might look a little flat when wet but it will take some manipulating to get it to fit your desired look. Oval face shapes work best with this cut.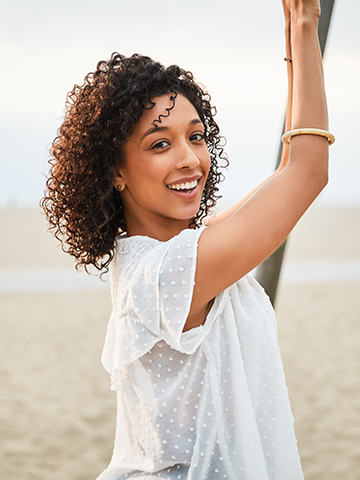 Layered Fringe Bob
This style is similar to the round cut except it's normally worn to the side and has a lot of movement. Those with 3B and 3C types can best sport this cut as both textures are simultaneously tight and loose, allowing for stability yet lots of fringe. Typically, more layers rest at the top of the cut to give it a more flexible look. Those with round, heart and oval-shaped faces sport this cut very well as it gives the face an accent. If you want to maintain length at the bottom of your hair but still want a fun look, this is the cut for you.
Pixie
Yes, even curly girls can wear a pixie. Cute and sassy and full of personality. Curly Pixie cuts can be carved out and shaped to reflect many different looks. Don't be afraid to marry hairstyles and allow the look to become more asymmetrical by wearing one side in a pixie and the other in a bob shape.This cut opens up your neck line dramatically so making sure your comfortable with showing off this area of your body is imperative.
Not sure what you're looking for? Consult a professional curl stylist to discuss styles that would best suit your needs. FREE CONSULTATION